Linda Adamcz, MSW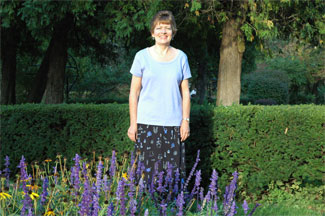 Linda is certified as a practitioner of Integrative Breathwork and Psychospiritual Integration through Eupsychia Institute in Austin, Texas.
She has worked as an individual therapist, case manager and group facilitator in the field of mental health for over 30 years.
Linda is committed to being honest and non-judgmental as well as respecting individual and cultural diversity and providing safety and confidentiality.
My Journey Continues in Faith, Hope and Love
I grew up in a small yet beautiful city near Lake Michigan. The oldest of six children, I attended Catholic schools then went on for two years of education at a community college. My initial dream of working for the airlines and traveling the world didn't happen. Looking back, I realized that sometimes those of us on a spiritual path are led in a different direction. I worked at a bakery for a few years, then following the death of my father returned to college to finish a bachelor's degree in psychology. I continued on for a master's degree in social work.
After graduation, I was blessed to find a wonderful job as a casemanager, individual therapist and group facilitator at a rural community mental health agency. I worked with adults who had different emotional issues and with people who experienced serious mental illness. I am grateful for all that I learned while there and for the special friendships I developed and still have with co-workers. My life was interesting and successful but I experienced a low level of depression on different occasions. It is my belief that this was due to childhood trauma which included poverty, witnessing violence and experiencing physical and emotional abuse.
In the early 1990's, while employed at the mental health agency, I attended an Integrative Breathwork workshop and my life has never been the same. Previous individual and group therapy had been helpful but a much deeper healing occurred with breathwork. My personal healing and witnessing the difficulty some of my clients had "being stuck" in emotional pain from their past events, led to my decision to become certified as a practitioner of Integrative Breathwork and Psycho-Spiritual Integration. I completed training with Eupsychia Institute in 1998, then offered workshops once a month. But I wanted to do more.
During a painting workshop in the fall of 2001 and a silent retreat the following summer, I was guided to leave my position at the mental health agency where I had been happily employed for fourteen years. It was not an easy decision to make. But it allowed me to offer workshops more frequently. My health in all areas – emotional, physical, spiritual and psychological – improved.
On my spiritual journey these past few years, I have had some ups and downs. A couple of people who experienced years of trauma and abuse came to my breathwork workshops. What a joy it is to see their emotional healing and improvement in physical health. I have worked with family members of people near the end of life, professionals in teaching and different health fields and persons dealing with cancer. Many have found healing. Most have found peace, joy, release of sadness and stress, acceptance, comfort and gained insight about their life purpose.
The challenges I faced included financial difficulty, death/loss of friends including one of my cats, closing of my church home where I had been a member for twenty years and a couple of negative work relationships. At times. I wasn't sure I was still on my "path". But I couldn't and wouldn't give up. I continue to walk a labyrinth, paint and seek divine guidance. I participate in Native American dances and a monthly drumming circle. New doors are opening. Joy is returning. I have another cat who is so playful. Special friends have shown me love, support, kindness and believe in the work I do. I have joined a new spiritual community.
A beautiful vision came to me for a retreat center where people can participate in Integrative Breathwork workshops, walk a labyrinth, meditate/pray and commune with nature. The work continues to bring healing, hope, good health and harmony. The Angels are always with us to protect and guide us. Life is good. I am eternally grateful.